What Is Leadership?
Leadership is the process of working collaboratively to shape a culture of interdependence and trust to foster inclusive practices. It serves a shared vision, is responsive to growth opportunities, and promotes learning and empowerment for all stakeholders.
Types of Leadership
It is necessary to recognize that school leaders can be more than one type of leader, as different scenarios within the school environment will require different responses. Effective leaders adapt to the needs of their teachers and students, blending different leadership styles and strategies to meet those needs.
At the center of school leadership is instructional leadership, which requires effective use of many different leadership styles to drive school improvement. A strong instructional leader balances operational tasks with practices that support, guide, and prepare teachers to make instructionally effective and technologically sound decisions. This results in increased student achievement.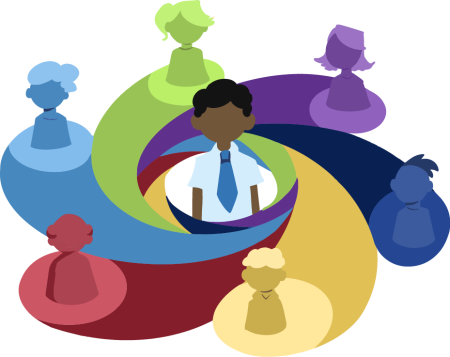 How does Leadership relate to my work?
The Importance of Leadership in Schools
With the instructional leadership model, we ask teachers to devote time and energy in professional learning communities, to collaborate on school-wide decisions, and to respond to change for growth. School administration should empower the staff, provide them with the things they need to be successful, improve their self-efficacy, and ensure that each task is meaningful. Schools are empowered to better serve their communities when teachers are supported through the inquiry process and when they are encouraged to have open and honest discourse about how to provide equitable and authentic educational experiences for students.
Learn More About Our Research
Resources & Job Aids for Schools
Looking for FREE lesson plans?
Check out our Lesson and Engaging Activity Repository & Network (K20 LEARN) for authentic lesson plans, instructional strategies, technology tools and more.