What Is Inquiry?
Inquiry is the ongoing process in which learning communities come together and engage in data-based decision-making. Through analysis and reflection, gaps in student learning, achievement, engagement, and/or empowerment are identified to inform interventions that result in equitable and improved student outcomes.
The Inquiry Cycle
The Inquiry Cycle is an iterative process in which teams of instructional leadership focus on continuous improvement, motivated by data.
Gillis and Milton-Kukner (2019) describe inquiry as a "holistic way of approaching the profession of teaching through continuously experimenting with and inquiring into pedagogy" (p. 22).
In alignment with foundational K20 definitions of inquiry, Baharav and Newman (2019) label their process as a "cycle of inquiry" and suggest that when implemented correctly, it will guide educators through the application of data to a local challenge or question; "one full cycle of inquiry includes the following components: collecting data, analyzing data, interpreting findings, making decisions, and taking action" (p. 239). An authentic inquiry process requires professional learning communities, a positive data culture, data-based decision-making (DBDM), and research practice partnerships.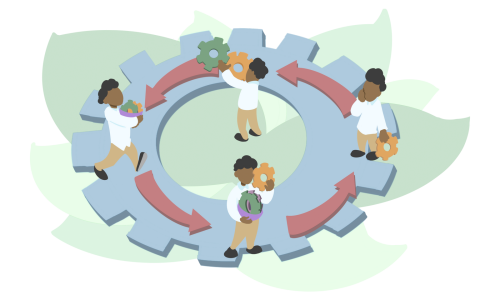 Growing a School Culture to Embrace Inquiry
How Does Inquiry Relate to My Work?
The Importance of Authenticity in Schools
The inquiry cycle is an important part of any educational setting. The result of this process is improvement in learner engagement, empowerment, and achievement (Broderick & Hong, 2011). By ensuring that teachers have supportive systems with adequate resources to develop and sustain the inquiry process, schools engender a sense of trust, collaboration among teachers and leaders, and shared responsibility for school improvement.
Learn More About Our Research
Resources & Job Aids for Schools
Looking for FREE Lesson Plans?
Check out our Lesson and Engaging Activity Repository & Network (K20 LEARN) for authentic lesson plans, instructional strategies, technology tools and more.