Other Heating and Cooling Sources
Other Heating and Cooling Sources
Lighting Fixtures (TC.LF)
Any lighting sources other than daylight that releases heat.
From the supporting literature (linked above), there is an association between classroom lighting conditions, lighting fixtures, and thermal comfort. Light sources and fixtures release heat which influences classroom temperature.
Appliances and Equipment (AE)
Equipment that releases heat.
From the supporting literature (linked above), classroom equipment and appliances generate heat. Some common classroom equipment includes; projectors, computers, amplifier, speakers, and microphones. The heat generated by a single computer or appliance is certainly insignificant. But the heat from a combination of all computers and appliances in the classroom can influence classroom temperature.
Type of heating, ventilation, and air conditioning in the room.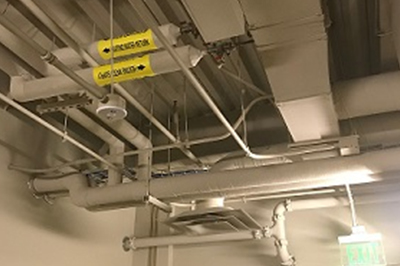 Users have the ability to control the thermostat in the room.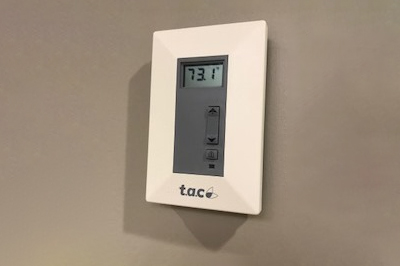 1. Bourgeois, D; Reinhart, C; Macdonald, I (2006) Adding advanced behavioral models in whole building energy simulation: A study on the total energy impact of manual and automated lighting control. ELSEVIER, 38(7), 814-823.
2. Cheng, Y., Niu, J., & Gao, N. (2012). Stratified air distribution systems in a large lecture theatre: A numerical method to optimize thermal comfort and maximize energy saving. Energy and Buildings, 55, 515-525.
3. Earthman, G.I (2015) Research on green schools and student performance. Marketing the Green School: Form, Function, and the Future, Information Science Reference, Hersey, PA, 38-53.
4. Earthman, G.I (2004) Prioritization of 31 criteria for school building adequacy. American Civil Liberties Union Foundation of Maryland. Retrieved in 2016, Baltimore, MD.
5. Karimipanah, T., Awbi, H. B., Sandberg, M., & Blomqvist, C. (2007). Investigation of air quality, comfort parameters and effectiveness for two floor-level air supply systems in classrooms. Building and Environment, 42(2), 647-655.
6. Lewis, L; Snow, K; Farris, E; Smerdon, B; Cronen, S; Kaplan, J; Greene, B (2000)] Condition of America's Public School Facilities: 1999 (NCES 2000-032). National Center for Education Statistics U.S. Department of Education, Washington D.C.
7. Lin, Z., Chow, T. T., Fong, K. F., Tsang, C. F., & Wang, Q. (2005). Comparison of performances of displacement and mixing ventilations. Part II: indoor air quality. International Journal of Refrigeration, 28(2), 288-305.
8. Sleegers, P.J.C; Moolenaar, N.M; Galetzka, M; Pruyn, A; Sarroukh, B.E; van der Zande, B (2013) Lighting affects students' concentration positively: Findings from three Dutch studies, Lighting Research & Technology, 45, 159–175.
9. Woolner, P; McCarter, S; Wall, K; Higgins, S (2012) Changed learning through changed space: When can a participatory approach to the learning environment challenge preconceptions and alter practice? Improving Schools, 15(1), 45–60.