Nearpod is a web application that is used to create interactive presentations. Educators may create Nearpod content for asynchronous or synchronous learning experiences. Nearpod offers a variety of options for adding interactive content to presentations, including quizzes, polls, videos, collaborate boards and more.
Tech Update: The video above demonstrates how to embed Nearpod into Canvas using a previous version of the content editor. To access the HTML editor in the new content editor, select the Switch to html editor icon located at the bottom right corner of the body field (see image below). This icon toggles between the rich content editor and the htlm editor.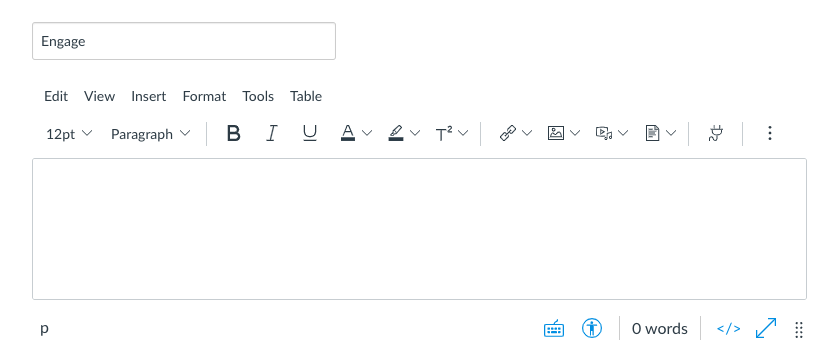 Open Nearpod. In a web browser, navigate to nearpod.com.

Login or Sign Up. For existing accounts, click the Log in button. Click the Sign up for free button to create an account.

If the lesson is being shared with students using a join code, students will click the Log In button and enter the provided join code in the field.

Create Lesson. Click the Create button [1] and select the Lessons option [2].

Title the Lesson. Click the Untitled Lesson text and enter a new title.

Lesson Settings. Click the Settings link to view and update lesson settings.

Add Content. Click the Add Slide icon [3] and choose a template for the desired content.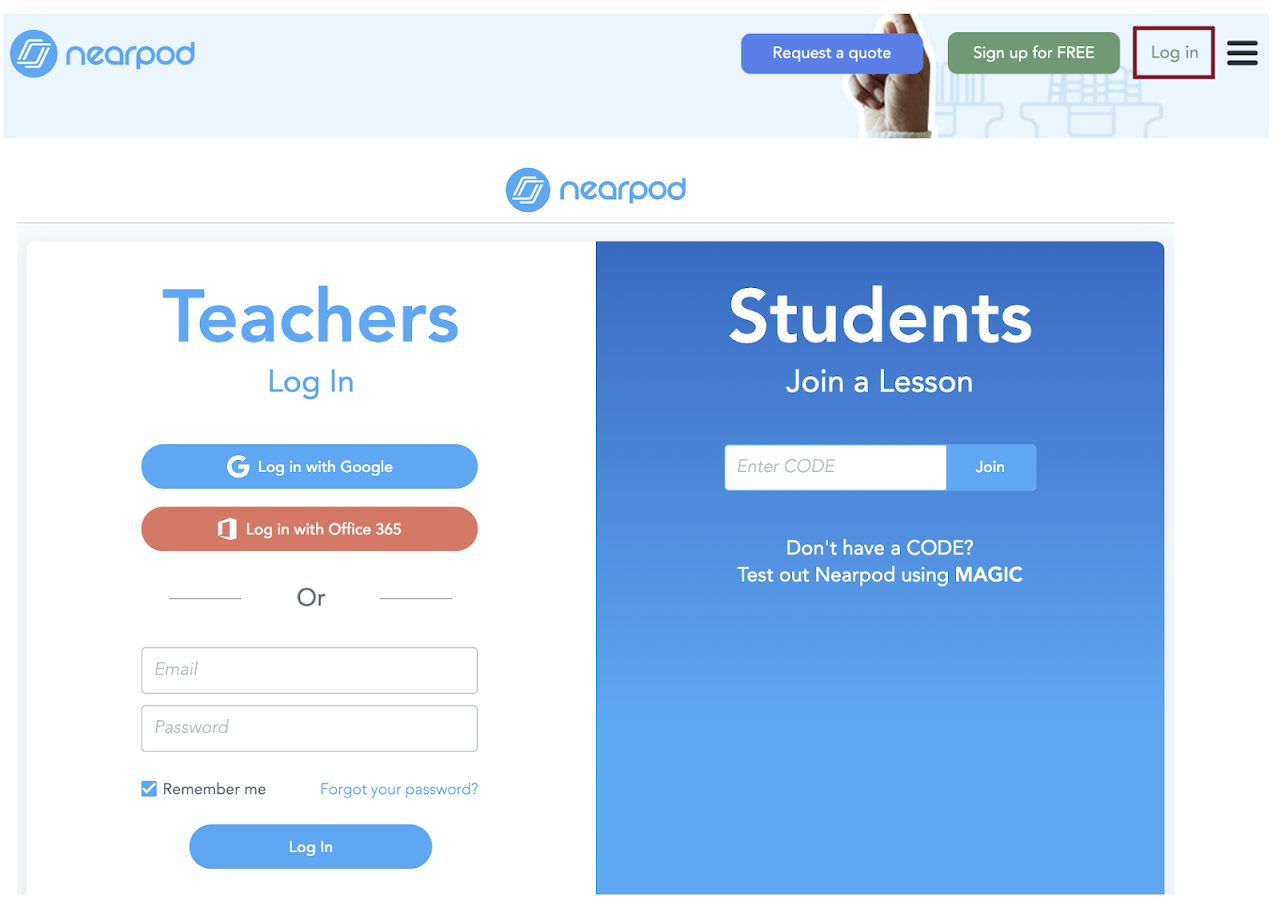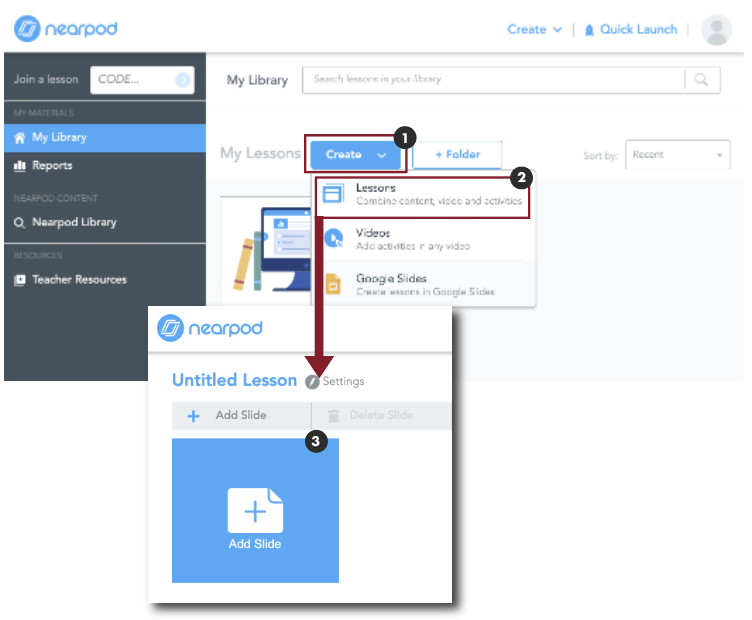 In this example, we'll be creating a Collaborate Board. The Collaborate Board activity allows students to add posts and respond to their peers in real time, similar to a discussion board.
To create a Collaborate Board click the Activities tab and click the Collaborate Board icon [4].

Collaborate Board Details. Add the following details to the new Collaborate Board [5]:

Image - choose an image that relates to the discussion board

Topic - enter a topic for discussion

Description - add an additional information related to the topic. This may be used to provide discussion questions

Choose a style for the discussion board

Save Collaborate Board. Click the Save button to create the activity [6].

Preview Lesson. Preview the lesson to review the lesson [7].

Save & Exit. Click the Save & Exit button to save the changes.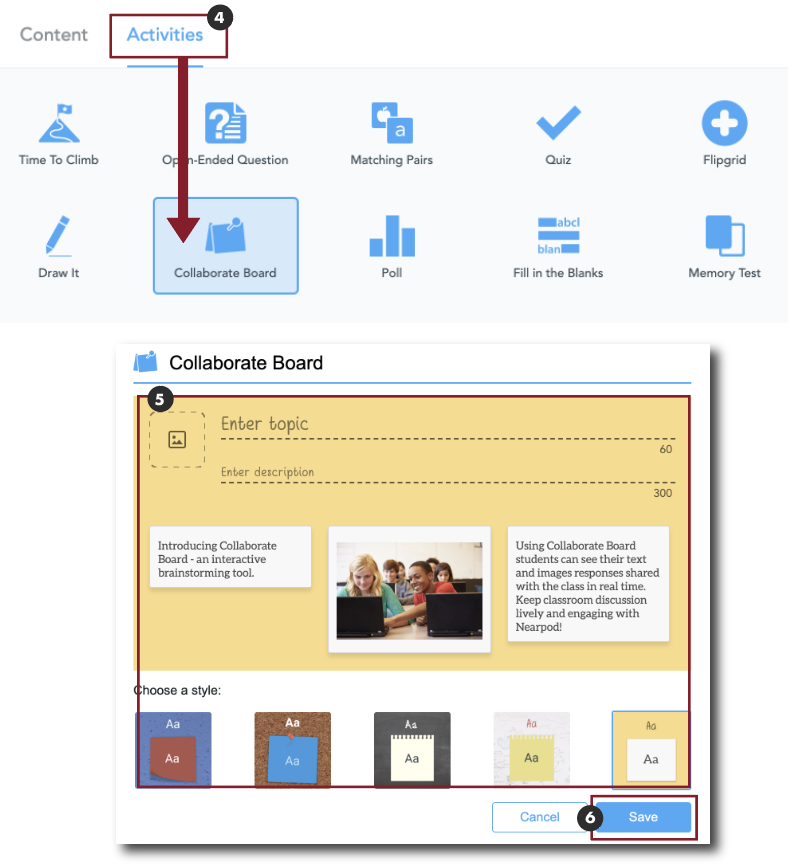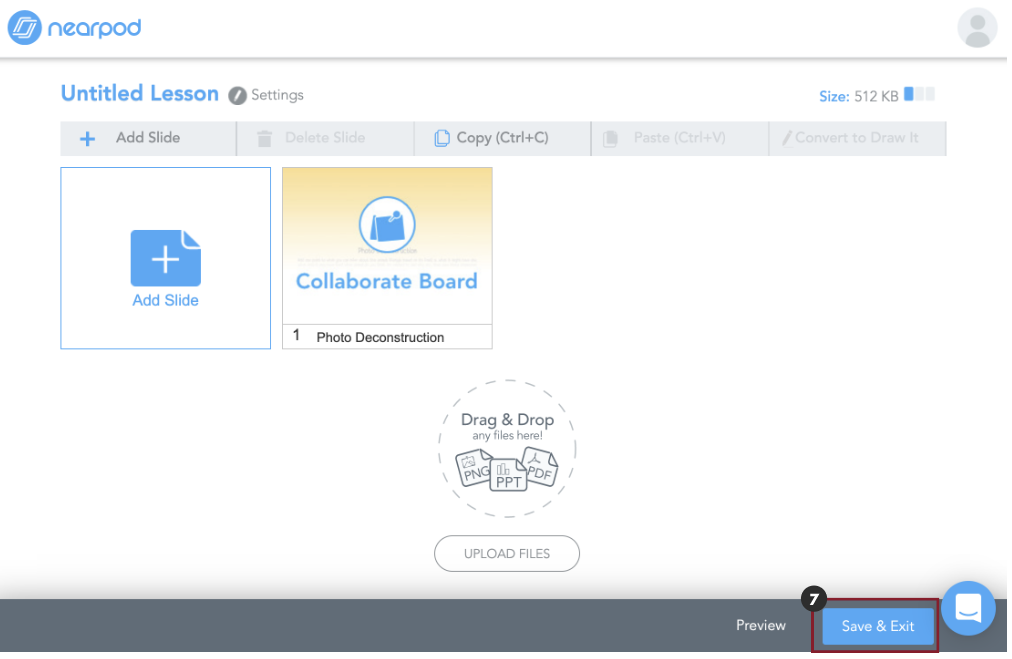 Sharing Lessons. Nearpod content and activities may be shared synchronously or asynchronously. To share an activity asynchronously, navigate to the activity, hover over the lesson to view the sharing options and select the Student-Paced option [8].

Lesson Settings. Certain activities may require additional settings to be enabled. For example, when creating a Collaborate Board for a Student Paced lesson the following message may appear:

Collaborate Boards are currently disabled for your Student-Paced lessons. Students will not be able to participate in this activity. Open your settings to enable Collaborate Boards for Student-Paced or continue with your lesson.
To enable Collaborate Boards for Student-Paced lessons, click the Open Settings option [9], scroll down to the Enable Collaborate Board for Student-Paced lessons and click the toggle button to On [10].