Laura Buxton Assumes Key Role as GEAR UP for LIFE Project Director
Champion Of A New Initiative
The University of Oklahoma's K20 Center has awarded the role of GEAR UP for LIFE Project Director to dedicated educator and leader Laura Buxton, M.Ed.
As the project director spearheading this seven-year GEAR UP grant, Laura will champion a new initiative to transform students' lives and empower them to reach higher education opportunities. She brings her unique passion, extensive experience in fostering student success, and profound commitment to education to the helm of this pivotal program.
"I am deeply honored and excited to be selected as the GEAR UP for LIFE Project Director," Laura said. "I look forward to working with the K20 Center to empower more than 8,000 Oklahoma students with the knowledge, resources, and tools essential for success in their chosen postsecondary education pathways."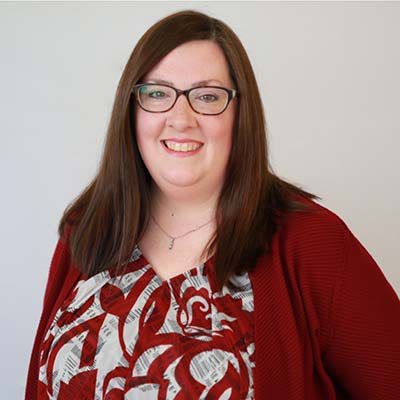 Born and raised in Oklahoma City, Laura has pursued a career that has been defined by a commitment to juvenile justice, child welfare, public education, and college access. Laura has worked with the K20 Center's GEAR UP programming since 2012, when she was hired to coordinate the K20 Center's previous partnership grant with OKCPS—the 2011 GEAR UP for the PROMISE grant. Prior to her work with GEAR UP, Laura served as the Alternative Education Director for the Oklahoma State Department of Education. 
In particular, Laura has been instrumental as the GEAR UP O+K=C Project Co-Director for Oklahoma City Public Schools (OKCPS). She led a team of GEAR UP College Coaches, offering vital mentorship to both her own team and to students navigating the challenging road through high school and beyond. 
"For more than 11 years, I have been privileged to work in a collaborative partnership with the K20 Center through two GEAR UP grants in Oklahoma City Public Schools," Laura said. "I have witnessed firsthand how the K20 Center's GEAR UP services have transformed the lives of students and their families by making a college education a realistic possibility."
In her spare time, Laura relishes moments with her three children and finds joy in gardening and expanding the family's farm animal collection at the Buxton homestead.
The GEAR UP for LIFE program, facilitated by the K20 Center for Educational and Community Renewal at the University of Oklahoma, is a seven-year initiative. With funds totaling $86 million, the grant will serve sixth and seventh graders across 27 schools, impacting over 8,000 students in high-poverty areas. The program aims not only to help students access college and other postsecondary education opportunities, but also to equip students with essential skills and support networks to ensure success through graduation and beyond. The program is made possible through a $43 million grant from the U.S. Department of Education, supplemented by matching funding from the Oklahoma's Promise program, which is dedicated to supporting low-income Oklahoma students in their pursuit of higher education.
"The GEAR UP program empowers students for success in college and beyond, and OU's K20 Center has a proven track record of building innovative partnerships with Oklahoma schools, teachers, and community leaders to improve student outcomes," said OU President Joseph Harroz Jr. in a university announcement. "The GEAR UP for LIFE program will enhance our state's workforce pipeline and fuel economic prosperity, but most importantly, it will have a far-reaching and long-lasting impact that will change the lives of generations of Oklahomans."
For more information about the K20 Center and Oklahoma's GEAR UP programs, see k20center.ou.edu/gear-up.
For more information on Laura, see her K20 Center biography at https://k20center.ou.edu/directory/laura-buxton-m-ed/.